Dallas, Texas (PRWEB) September 02, 2014
Flowserve Corporation (NYSE: FLS), a leading provider of flow control products and services for the global infrastructure markets, today announced the launch of the Compact Electric Actuator (CEA) Series from Flowserve Limitorque. The CEA features a multitude of user benefits which are combined into one unit to provide a genuine breakthrough in capability for compact, single-phase electric actuators. For the first time, industrial OEMs and end users specifying single phase electric actuators can benefit from the intelligent technologies, broad range of valve applications, and extended service life that will enhance cycle performance and advanced diagnostic capabilities.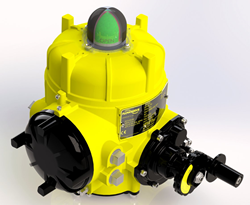 Intelligent technology:
Customer-inspired, user-friendly Human Machine Interface (HMI) features auto calibration to provide optimized commissioning for valve automation. Available for the first time in single phase actuators, standard diagnostics include actuator temperature and valve torque monitoring with early warning detection of operating threshold and alarm output.
Valve application:
The CEA not only meets typical rotary duty requirements (i.e. 90 and 180 degree), it is also capable of multi-turn duty up to 20 turns, making it a cost effective and easily adaptable solution for rising stem valves.
Service life
The CEA uses precision designed, worm gear drive trains and brushless DC (BLDC) motors to minimize unscheduled downtime. During qualification testing, the actuator demonstrated an unprecedented operating reliability of up to 250,000 on/off cycles. When configured for modulating service the CEA provides 1800 starts per hour with 0.1% position accuracy.
Available globally through multiple distribution channels, the CEA range consists of seven sizes providing a continuous torque up to 1695 Nm (15,000 in-lbs) and five design variants. These include network communication, single-loop control and modulating control.
Equally important to the design and capability of the CEA was the need to meet global standards and approvals. The CEA is fully qualified to NEMA Type 4, 4X and6, IP66/68 Class 1, Div 1 and 2, Gps B,C,D (CSA,FM) and ATEX II 2G Ex d IIB +H2 T4: IECEx II 2G Ex d IIB +H2 T4.
"With the launch of the new CEA actuator, we are bringing a product to market that exceeds industry expectations for a light-to-medium duty electric actuator," stated Jeff Drees, President, Flowserve Flow Control Division. "The CEA redefines performance levels in a number of areas," he added.
In addition to designing and manufacturing breakthrough products, Flowserve Limitorque provides a full array of application engineering, customer service and aftermarket support for the CEA and other automation products through its established global sales and distribution network.
 
For more information about the CEA actuator, visit http://dntsc.com.vn/http://www.flowserve.com/Products/Automation/Actuators/CEA-actuator,en_US.